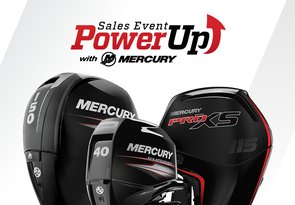 PowerUp
Between May 6 and 31, 2019, all Mercury 40 – 150 horsepower outboards (including FourStroke, ProXS and Jet) purchased through a participating dealer as part of a repower will be eligible for a retail factory rebate of up to $1,650!
40hp & 40hp Jet = $250
50hp = $300
60hp = $450
65hp Jet = $450
75hp = $500
80hp Jet = $500
90hp = $750
115hp & 115hp Pro XS = $1,000
150hp = $1,500
150hp Pro XS = $1,650
Purchase a Mercury stainless steel propeller as part of the repower and get an additional $70 rebate!
Find your local PowerUp dealer today!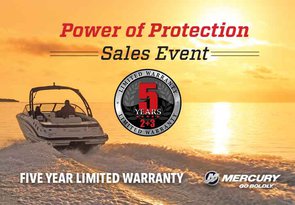 Head Out on the Water with Long-Term Protection
Power of Protection Sales Event
NEW long-term protection from Mercury! Purchase a new Mercury MerCruiser gas or inboard engine (installed in 2016, 2017, 2018 or 2019 model year boats) and get five years of limited coverage!
Five-year coverage against costly repairs
2016-2019 gas sterndrive/inboard models
More than 120 major engine parts covered
Entire engine assemblies replaced if necessary
World-class Mercury dealer service and support
Eligible
Mercury I.Q. Certified Boat Builder
models sold to US and Canada residents will receive 5 years coverage (2 years of Mercury Limited Warranty and 3 years of Mercury Power of Protection Limited Warranty). Valid on boats purchased from July 1, 2018 through June 29, 2019 and registered by July 15, 2019. The information provided in this document is intended to provide only a brief description of the benefits of this Mercury 5-Year Gas Sterndrive and Inboard Engine Limited Warranty. This Mercury Limited Warranty also has exclusions and limitations that apply to the benefits discussed in this document. For complete details as provided in the Agreement document (including "What is not Covered"), please call the program administrator at 866.404.3064.
Eligible Models
Sign up to receive the latest tips, promotions and news from Mercury